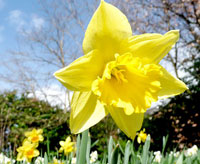 As Spring rolls around many groups begin to plan Spring Fundraisers to raise money for sports, events, and/or supplies. Providing sports for the youth doesn't come cheap; there is equipment, travel expenses, and fees to pay for. Many groups and schools run on tight budgets and simply don't have the funds to pay for extra curricular activities such as baseball, softball, golf, tennis, and track.
Spring Fundraising Ideas are fund raising programs and products sold by groups and schools to raise money for their spring sports and/or supplies. There are three types of fundraisers:
Direct Sale Fundraisers, also known as "in-hand fundraisers", are products purchased ahead of time and then sold by group members to supporters. These are items such as candy bars, Jack Link's beef jerky, Smencils, and lollipops. Generally these items make anywhere from 40% - 70% profit.
Donation Programs, primarily known as Scratch Card programs, are a great way for making the most profit without carting around goods. Scratch Cards will make up to 90% profit for you and your school or group. With Scratch Cards, your group will make request for supporters to scratch off one or two dots on the scratch card, pay the donation amount, and then receive a coupon sheet valued at $150 as a "Thank You".
Spring Brochure Fundraising ideas are brochure programs that will raise up to 50% profit depending on how many items are sold. Products sold through the brochure will raise more money per unit than direct sale items, thus, requiring your group to sell less to make the same amount of profit.
If you are looking to raise money for your group or school and would like to run a Spring Fundraiser, contact one of our fundraising specialists today at (888) 203-7168. With more than a decade of helping groups reach their goals, we will help you choose the right Spring Fundraising idea for you and your group!
Tags for Spring Fundraising Ideas