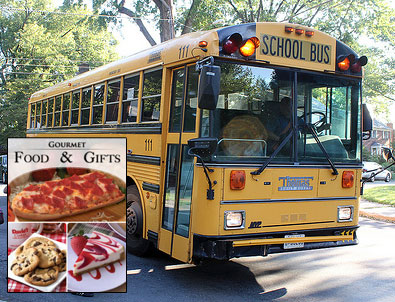 There are many different school fundraising ideas available that sometimes it makes it hard to determine which school fundraiser will work for you. There are three primary types of school fundraisers: direct sale, donation, and brochure programs.
Direct Sale or In-Hand sellers are school fundraising products that are purchased by the school ahead of time, passed out to the sellers, and then sold to supporters. The money is then turned in to the school and the group keeps the profit. In-hand sellers are cheaper fundraising items that usually retail for $1, which is a lot less than some brochure program items; however, because they generate less profit per unit sold – it takes more units sold to raise the same amount of money as one brochure program item. Some top selling direct sale fundraisers for schools are smencils, beef snacks, lollipops, and candy bars.
Donation programs require the sellers to request for donations from supporters. To encourage support and to make the process as fun as possible, Scratch Cards are typically used. Scratch Cards have 100 scratch off dots that cover donation amounts. Your sellers will have each supporter scratch off one or more dots and then donate the amount shown. The supporter will then receive a coupon sheet valued at $150 as a "Thank You".
To help promote your school, school group, or organization, customization of some direct sale products and donation scratch cards are available.
Brochure fundraisers for schools are no money up front programs. Wow Fundraising provides all the supplies needed to run the fundraiser up front and for FREE! To start a school brochure fundraiser, simply select a brochure program that your school would like to run from our brochure list, contact one of our school fundraising specialists, and we will get you started with one of our school fundraising programs!
All public schools qualify for instant terms! No need to pay up front for direct sales or scratch cards!
Contact one of our school fundraising specialists today at 888-203-7168 to get started with a fundraiser for your school today!
Top Products for Fundraisers for Schools

Scented Pencils made from 100% recycled newspaper soaked in gourmet scents
Make $200.00 per case
40% profit
$1.00 sellers
500 smencils per case

Best selling fundraising lollipop
Make $352.00 per case
55% Profit
$1.00 sellers
640 assorted lollipops per case
Peanut Free, 1.5 oz. candy bars
Make $96.00 (up to $120.00) per case
40% Profit (up to 50% profit)
$1.00 sellers
240 candy bars per case
Tags for Fundraisers for Schools