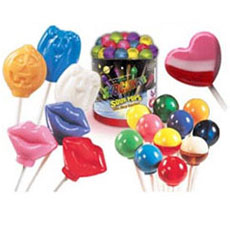 Lollipop Fundraising Ideas are lollipop products (also called suckers) created for fundraising groups to raise money for supplies, travel expenses, tuition, or other needs. Lollipop fundraisers come in many different sizes, flavors, textures, selling points, shapes, and the most important to fundraising – profits! There is sure to be a lollipop or sucker fundraising idea for you, your group, holiday event, and school store.
Fundraising Lollipop (Suckers) Sizes
Lollipops or suckers are manufactured in many different sizes. While the most popular or best selling lollipops weigh in around one ounce, there are other sizes available. Different sized lollipops will be used for different groups. Daycares and preschools may look to the smaller chocolate 0.8-ounce lollipops. Parents who purchase the lollipops usually buy them for their child who attends the school or daycare and would like a smaller lollipop for less worry about a choking hazard. Other groups with older members might look to the larger pops of 1.1-ounces such as the Cream of the Pop or the 1.58-ounce lollipops such as the Yummy Swirls.
Flavors for Lollipop Fundraisers
As the lollipop or sucker size differs, so do the flavors. There are two primary categories for lollipop flavors: candy pops and chocolate pops. Under each category are many more flavors ranging from caramel-apple to cherry-lemonade or white chocolate, dark chocolate, and chocolate. There are many different assortments with each their own flavor; some even intrigue the senses with their mystery flavor, such as the Color Blasters.
Lollipop Textures
An often over-looked quality, the texture of the lollipop varies as well. There are standard smooth round lollipops like the top selling lollipop fundraisers: Yummy Lix, Carousel Rounds, and Shockwaves. There are also unique qualities added by the lollipop mold to help for baseball grooves or pumpkin creases. Or, the texture is a result of the lollipop itself such as the chocolate richness or the heat from the chili spices in the Hot! Pops.
Lollipop Fundraiser Selling Points
There are two selling points for lollipop fundraisers: $0.50 and $1.00 sellers. Most of the candy lollipops sell for $0.50 with only a few specifically designed to sell for $1.00. The $1.00 sellers consist of all the chocolate lollipops and some of the larger sized candy lollipops.
Lollipop Shapes
Footballs, baseballs, witches, hearts, lips, and Santa – just to name a few – are several of the widely diverse lollipop shapes there are to offer. The fundraising lollipops or suckers are shaped in certain forms to help them sell during different holidays such as Valentine's Day, Easter, and Christmas. Or, the lollipop fundraisers are shaped in the form of sport balls to sell during sporting events.
Lollipop Fundraising Profits
The average lollipop fundraiser will raise 50% profit for your group. There are, however, other options available. Chocolate lollipops sell for 40% profit, are kosher certified, and make excellent holiday fundraisers as each lollipop is molded is a shape to suit the occasion. There are also several candy lollipops that make over 50% profit; we created a 51% profit lollipop category specifically for these pops. And finally, the most profitable lollipop is our Cancer Awareness Lollipop at 60% profit.
Wow Fundraising stocks a huge variety of lollipop fundraisers (over 45 different types!) to make sure we have just the right lollipops for your fundraising occasion. Contact one of our fundraising specialists at 888-203-7168, and we will help you choose the right lollipop fundraising idea for you and your group.
Top Products for Lollipop Fundraising Ideas

Best selling fundraising lollipop
Make $160.00 per case
50% Profit
$0.50 sellers
640 assorted lollipops per case

Colors your tongue
Make $160.00 per case
50% Profit
$0.50 sellers
640 assorted lollipops per case
Tags for Lollipop Fundraising Ideas