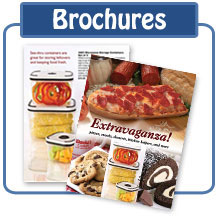 Brochure fundraising programs play a large part in helping groups raise the money they need for any reason. The best part about brochure fundraisers is they are FREE to start. That's right, all brochure fundraisers are no money up front and all the supplies needed to run the fundraiser are sent to you for FREE!
Starting a Brochure Fundraiser
To start a brochure fundraiser you will need to decide what type of items you would like to sell. Some good things to keep in mind are what is your group raising money for and is there a brochure program that represents this? Seasonal brochures are another great idea. Spring seeds make excellent brochures for a spring fundraiser where as gift brochures make excellent holiday fundraisers. If you need help deciding, please contact one of our fundraising specialists and we will assist you in your decision. With our many years experience helping groups just like yours raise money with brochure fundraisers, please use us as a reliable resource in making your fundraising plans. Click here for a list of Brochure Order Takers.
What's Included in my Brochure Fundraiser?
You read correctly above, it is 100% FREE to start a brochure fundraiser. We will provide all the brochures, order takers, money collection envelopes, and even a pre-paid return label for you to return the order takers with. Once we receive the returned order takers, we will total and tally everything, then provide you with reports on how your group did.
When do I receive the product?
After all the order takers from the brochure fundraiser are totaled and tallied, our pack-house assembles all the orders and we ship them to you. This generally takes no longer than two weeks for you to receive your products.
Brochure Fundraisers for Schools
Some schools have recently been forced into strict regulations on what their students are allowed to sell. You should always check with the Principal or fundraising committee at your school to see what you are allowed to sell. Some groups have told us that even if they have strict rules on what the students can sell in school, they are still allowed to sell the product outside of school. Or, in other cases, the parents turn out to be the ones selling and they end up taking the brochures to work. Click here for some fundraisers for schools.
Tags for Brochure Fundraisers