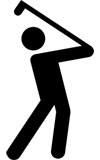 Golf Fundraising Ideas are products and programs used to raise funds for golf supplies, events, travel fees, and other golf expenses. Wow Fundraising has collected a large variety of fundraising ideas to provide you with many options of golf fundraisers; each having their own strength and target audience.
In-Hand Fundraising products vary in case size, customization, and selling point. To determine which product you would like to sell, think about your group and how much you think they can sell, as well as what they would like to sell. Would your group members feel comfortable asking for donations with Scratch Cards? Or, would they prefer to sell products like smencils, lollipops, beef snacks, or candy bars?
Scratch Cards provide the best profit, up to 90%, and are easy to carry around. Other in-hand sellers are usually packaged within carriers that group members carry around with them, typically one carrier per seller.
Sometimes, golf groups have better results selling golf customized fundraising products such as Golf Scratch Cards, wristbands, bbq sauce, or lollipops. When your product represents your organization, it may hold more weight with the supporters.
Instead of in-hand products, some golf groups may prefer to run a brochure sale such as French bread pizza, cookie dough, cheesecake, snacks, gift items, or magazines. All of these brochure sale programs allow golf groups to take supporter's orders first, and then pay later. Many school groups prefer this method of fundraising as it requires no money up-front and all supplies needed to run the fundraiser are included.
There are other great golf fundraisers that don't involve purchasing products. Sometimes golf clubs will provide you the ability to do a course markup. This is where the golf club sells your organization games at a discounted rate, and your organization in turn sells the games to supporters at a marked-up rate.
Sponsors make a golf outing fundraiser successfull as well. Golf group members may look around their town for organizaitions who would like to sponsor a hole or even players. Generally groups sell hole sponsorships for $100 and include a sign of the sponsoring organization. Check with a local printer for sign rates.
A golf cart cash bar makes a great hot weather fundraiser. Gain approval from the golf club to sell cold drinks and snacks on their courses, then rent a cart and sell your items to golfers on the holes.
If you are interested in a Golf Fundraising Idea or need help choosing the right golf fundraiser for you and your group, give us a call (888-203-7168) and one of our fundraising specialists will help you.
Top Products for Golf Fundraising Ideas