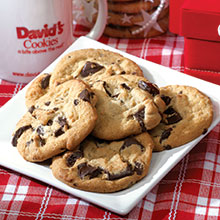 David's 2.7 lb Preportioned Cookie Dough boxes!
David's cookie dough has been popping being devoured across the country since 1979. When you need a brand name for your fundraising event, turn to David's Cookies premium product.
Our David's Cookie Dough brochure includes 8 different varieties
Chocolate Chunk (preportioned)

Snickerdoodle

 (preportioned)

Candy Cookie

 (preportioned)

Oatmeal Raisin

 (preportioned)

Chocolate Peanut Butter Chip

 (preportioned)
Peanut Butter (preportioned)
White Chocolate Macadamia Nut (preportioned)
Playful Cookie Dough Tubs (4 tubs: yellow, blue, green and red) <-- Kids love to shape this colored dough, HUGE SELLER
YOU CHOOSE FROM SEVERAL DIFFERENT SELLING PRICES. You choose your price which means you will be choosing your profit structure. Call us or submit the online form to get more information. Feel free to ask questions. We love questions!
Most of our fundraisers choose to sell these boxes from $14 to $16 each.

David's Cookies are also available in our variety brochures. A great option if you want a variety of items for your fundraising supporters to choose from:
View the Brochure

Product List